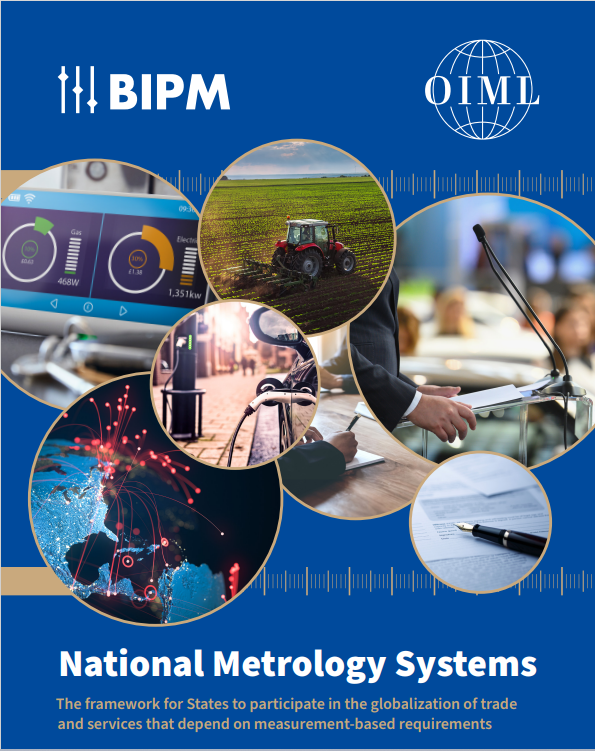 BIPM and OIML joint knowledge transfer initiative - National Metrology Systems
The BIPM/OIML jointly published a Brochure and six accompanying inserts on different aspects of the National Metrology Systems. The contents draw from the BIPM and OIML joint publication "National metrology systems - Developing the institutional and legislative framework" (OIML D 1:2020).
Written in an accessible way, the brochures are aimed at
supporting countries and economies with emerging metrology systems in the implementation of this International Document,
underpinning the 27th CGPM's Resolution 6 "On universal adherence to the Metre Convention",
underpinning Objective 5 of OIML B 15:2011 OIML Strategy on raising awareness of the contribution that a sound legal metrology infrastructure can make to a modern economy.
The suite of brochures summarizes key elements that should be considered when producing policies aimed at developing national metrology systems, setting up institutions dealing with metrology, and drawing up national laws related to metrology.
Umbrella brochure: The role of government in a National Metrology System
Insert 1: The role of government in a National Metrology System
Insert 2: International aspects of National Metrology Systems
Insert 3: Assessing metrology needs that support national priorities
Insert 4: Policy implementation options for Governments
Insert 5: Legislating for metrology
Insert 6: Developing a metrology system for the future
The material is available in English in a format that is suitable for printing. Files intended for professional printing are available through the BIPM and OIML secretariats.
A formalized national system for metrology benefits a country in many ways. It helps businesses compete globally, provides fairness and equity for consumers in the marketplace, and establishes a sound basis for scientific research and addressing the challenges of a society for the future. In my career I have participated in both its scientific and legal aspects, and have observed how it helps its citizens, industry and government. We hope this brochure describes a National Metrology System and its benefits in more detail, and provides guidance on the process for implementing it in your country.
Quote from Dr. Douglas A. OLSON (formerly NIST)
METAS (Switzerland) is acknowledged by the BIPM and OIML for their generous contribution, as they have kindly provided the funding facilitated through the CBKT program. The content was prepared by Douglas A. OLSON (formerly NIST) and Chingis KUANBAYEV (BIPM) in consultation with Peter MASON (CIML), Andy HENSON (BIPM) and Ian DUNMILL (OIML).