Member State: United Arab Emirates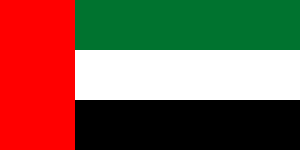 The United Arab Emirates became a Member State on 27 April 2015.
CIPM MRA
Signatory/NMI
Emirates Metrology Institute
Participating in the CIPM MRA since: 03 February 2016
Signed by: Rashid Ahmed BIN FAHAD (Minister of Environment and Water; Chairman, ESMA)
Designated institute(s)
Federal Authority for Nuclear Regulation SSDL
For ionizing radiation (from 19 May 2021)
Abu Dhabi
comparison-piloted-by-the-BIPM-title
BIPM services provided
Comparisons piloted by the BIPM
AE - comparisons-piloted-by-the-BIPM
BIPM services-certificates-TITLE
Calibration certificates issued by the BIPM
Calibration certificate No.13 (2019)
Zener voltage standard, No. 2169033
Calibration certificate No.36 (2018)
10 kΩ standard resistor, J2-1529650
Calibration certificate No.35 (2018)
10 kΩ standard resistor, J2-1529649
Calibration certificate No.34 (2018)
1 Ω standard resistor, 14395
Calibration certificate No.2 (2018)
1 kg mass standard, No. ID142131
Calibration certificate No.1 (2018)
1 kg mass standard, No. ID142130
CBKT
Nationals having participated in / benefited from the BIPM CBKT programme
National institute having sponsored a BIPM CBKT initiative (in full or in part)
No sponsorship yet.