CBKT Project: Metrology for Clean Air
BIPM contact
Bureau international des poids et mesures
France
Overview
The CBKT-CA-BIPM project is designed to allow NMIs to strengthen their gas standard capabilities and further develop their national metrology infrastructure in support of their air quality and emissions measurement communities.
Through the project the BIPM hosts visiting scientists from participating NMIs, and provides knowledge transfer on the establishment and operation of FTIR capabilities for the value assignment and comparison of gas standards for air quality and emissions monitoring.
Participating NMIs cover the cost of seconding their scientist to the BIPM.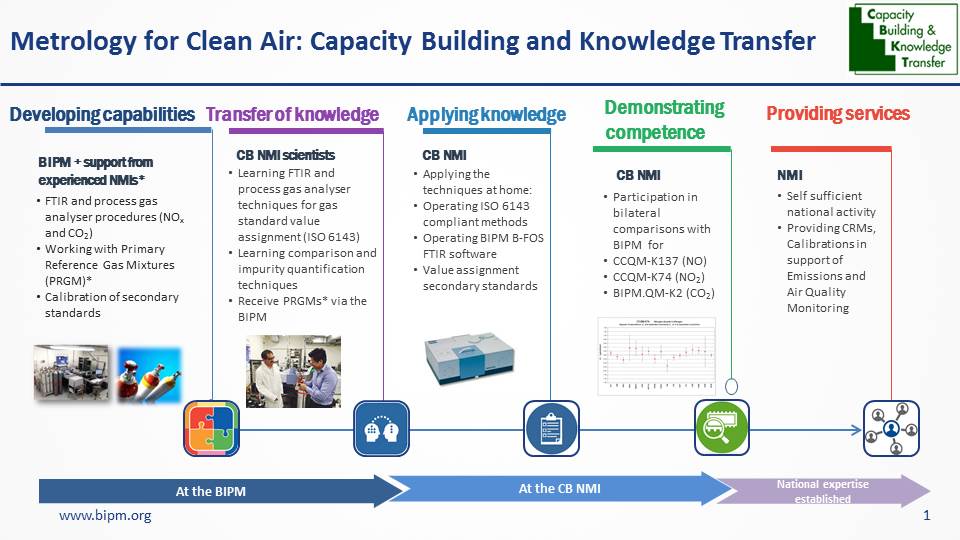 Financial support
The BIPM thanks the following institutes for providing financial support for six-month secondments from the listed participating NMIs:
PTB (Germany)
NPL (UK)

NPLI (India), 2017
NMISA (South Africa), 2018
Opportunity for 2018-2019
KazInMetr (Kazakhstan) 2019
KEBS (Kenya) 2020
NMIs/DIs interested in providing financial support for this initiative are invited to contact the BIPM for further information.