Revised CIPM MRA documents
The documents supporting the CIPM Mutual Recognition Arrangement (CIPM MRA) - the framework through which National Metrology Institutes demonstrate the international equivalence of their measurement standards and the calibration and measurement certificates they issue - have been revised and published on 11 January 2021.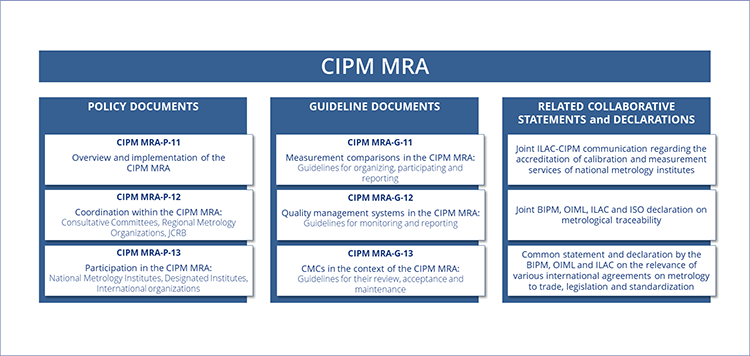 The Arrangement was originally signed in 1999 by 38 Member States and two international organizations and has since matured into a well-recognized pillar of the international quality infrastructure which now covers 258 institutes: signatories from 62 Member States, 40 Associates of the CGPM and four international organizations as well as 152 further institutes designated by the signatory bodies.
To cover the needs of international stakeholders in the nine core Metrology areas, the Arrangement has been supplemented by various clarifications and interpretations which previously amounted to 27 documents. To ensure sustainability after a decade and a half of successful operation, the 25th Meeting of the CGPM (2014) invited a review of the implementation of the Arrangement and to streamline its operation within the existing framework.
The international review of the Arrangement was undertaken in 2016 with a series of recommendations agreed in 2018. This initiated a process to consolidate and update the supporting documents. The revised suite, which was reviewed by both the Consultative Committees and the Regional Metrology Organizations prior to approval by the JCRB, now collates the information in three policy and three guidance documents:
The previous set of documents will be stored at the BIPM and available through the JCRB Members' working area or the JCRB Executive Secretary.