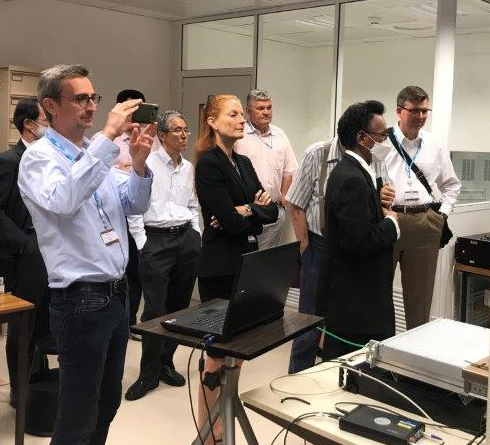 BIPM and ITU Radiocommunication Sector experts are enhancing the collaboration to progress towards a continuous UTC
The activities of the International Telecommunication Union Radiocommunication Sector Working Party 7A (ITU-R WP 7A) are closely linked to the work of the BIPM, as this WP regulates time signals and frequency standard emissions. The BIPM hosted the 2023 annual meeting of ITU-R WP 7A in recognition of this synergy and to facilitate discussions on the necessary modifications to time signal broadcasts in order to maintain UTC in accordance with the Earth's rotation, with an extended tolerance. This consultation was prompted by ITU Resolution 655 (WRC-15), CGPM Resolution 2 (2018) and Resolution 4 (2022), which emphasized the importance of strengthening cooperation between the ITU-R, BIPM and other relevant organizations to discuss expertise and various aspects of current and potential future reference time scales. The two parties look forward to their ongoing collaboration towards ensuring a continuous UTC that meets the needs of users. This topic will be considered at the upcoming World Radio Conference in November 2023 in Dubai.
---
*
UTC -
Coordinated Universal Time
- is a time scale produced by the BIPM with the same rate as International Atomic Time (TAI). It differs from TAI only by an integral number of seconds.