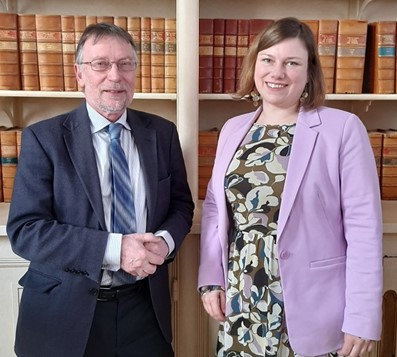 Anna Cypionka is the new Director of the BIPM International Liaison and Communication Department
The BIPM welcomes Anna Cypionka as Director of the International Liaison and Communication Department (ILC), from 1 March 2023, following the retirement of Andy Henson. Referring to her aspirations in the new position, Anna commented: "The BIPM is unique in how it brings together world-wide communities through science – a spirit that I want to promote as ILC director". Further considering the BIPM's top priorities, she explains: "We live in an era of constant change, hence the BIPM must keep up with the pace. The ILC department will play a key role in the coordination required to address the challenges related to the evolving needs in global metrology – together with our stakeholders and in transdisciplinary forums."
Anna completed her university studies in chemistry at the Technical University Carolo-Wilhelmina zu Braunschweig before securing a PhD in biophysics at the Georg-August-Universität Göttingen and the Max Planck Institute for Biophysical Chemistry, Germany. Her research focused on the development of a detection method for membrane fusion using single-molecule spectroscopy. She additionally holds a master's degree in public management from the Hertie School of Governance, Berlin. Anna joined the German National Metrology Institute (PTB) in 2010 where she held various positions. As a project coordinator in the Department for International Technical Cooperation she managed projects with developing countries in the area of quality infrastructure and represented PTB in Asia-Pacific regional networks. In spring 2017 she was appointed Head of the PTB Presidential Staff. Amongst other tasks, she became responsible for the reporting to the Federal Ministry for Economic Affairs and Climate, the planning and evaluation cycles of the PTB work programme, stakeholder management and the secretariat of the PTB Advisory Committee.
Having dedicated more than two decades to the international liaison and global coordination of metrology, Andy Henson is proud of having assembled an effective and experienced team, which is able to cover the extended breadth of activity that comes under the scope of the Department. Some of the initiatives with the greatest impact that he was directly involved in include: the CIPM MRA review and the related KCDB 2.0 platform development; the revision of ISO/IEC 17025; the establishment of the Capacity Building and Knowledge Transfer Programme; intensified collaboration with the other pillars of the International Network of Quality Infrastructure and raising awareness to the importance of investing in metrological infrastructure through policy dialogue with government. Contemplating upcoming events, Andy concluded: "The BIPM's strength lies in its intergovernmental status, its impartiality, its role as custodian of the SI and its sound scientific and technical expertise. The BIPM is in a unique position to advocate for metrology and bring the community together creating fresh opportunities to meet scientific and societal challenges. Our 150th anniversary in 2025 will be the perfect occasion for a glimpse of the future."
The BIPM wishes Anna plenty of success in this new role and extends its warmest thanks to Andy for his tireless diligence to the immense benefit of our community.