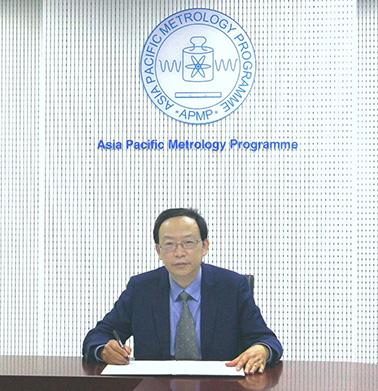 APMP joins the e-learning initiative
Mr Xiang Fang, Chairperson of the Asia Pacific Metrology Programme (APMP), signed a practical arrangement with the BIPM to join the e-learning initiative on 7 November 2022. The purpose of signing the formal arrangement is to ensure the ongoing reliability of the e-learning platform and publication of up-to-date material.
At the time of signing, the BIPM e-learning platform contained 16 e-learning courses submitted by EURAMET, COOMET, GULFMET and the BIPM Scientific Departments. The e-learning platform is accessible around the clock on any device to provide learning support to metrologists as conveniently as possible.
The APMP courses to be posted on the platform will be announced in due course.
E-learning is an important trend in the current context. It is a good way of capacity building that takes advantage of digitalization and counteracts the impact of the pandemic. APMP would like to join the BIPM E-learning Initiative to contribute to the global measurement community as well as benefit its wide range of members, especially the Developing Economy NMIs.
Quote from Mr Xiang Fang (pictured top left), APMP Chairperson
e-learning Platform