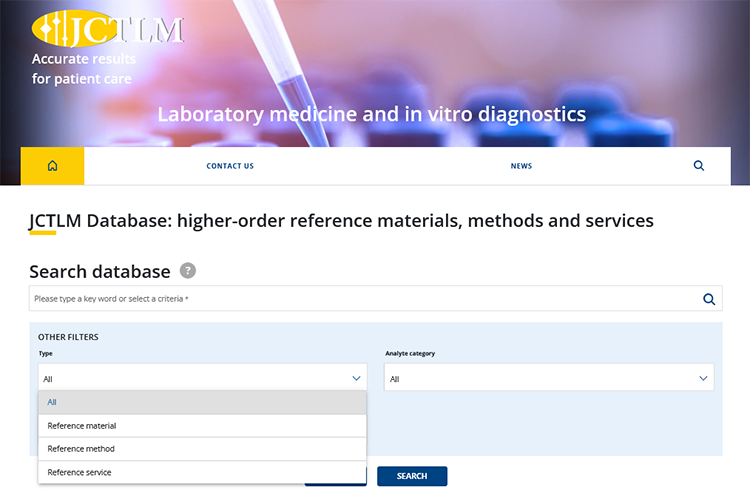 New version of the JCTLM Database launched
The new version of the JCTLM Database of Reference Materials, Methods and Services for in vitro diagnostics went live on 3 October 2022.
The database is accessible through the JCTLM web portal with the new search engine available at https://www.jctlmdb.org/. The database has been upgraded with extended search functions for reference measurement components, using free-text search and additional options for filtering and exporting data.
The JCTLM Database lists higher-order reference materials, measurement methods and services to be applied following the models described in ISO 17511:2020, 'In vitro diagnostic medical devices —Requirements for establishing metrological traceability of values assigned to calibrators, trueness control materials and human samples', to establish metrological traceability for in vitro diagnostic medical devices.
The JCTLM Database contains information on: 265 Reference Materials; 215 Reference Methods; and 224 Reference Measurement Services from accredited calibration laboratories.
Database entries have undergone independent review and found to be compliant with the criteria in documentary standards developed by ISO TC 212 WG2 (Reference Measurement Systems), with reference measurements services listed for accredited calibration laboratories, as described in the JCTLM procedures.
An Application Programming Interface (API) is being finalized and will be released towards the end of October 2022.