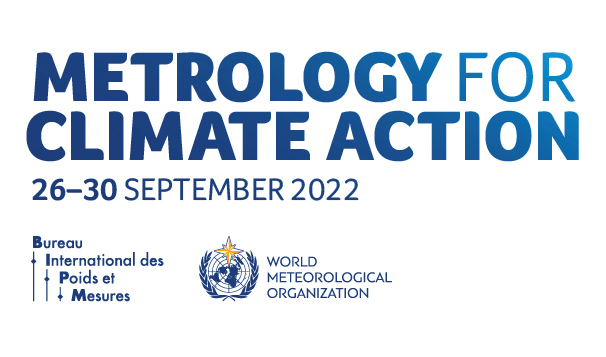 14 September registration deadline for the BIPM-WMO Metrology for Climate Action workshop
The detailed programme for the online BIPM-WMO Metrology for Climate Action workshop, which will be held on 26-30 September 2022, is now available. https://www.bipmwmo22.org/workshop-program
Experts active in climate science, observations, GHG mitigation and measurement, modelling and measurement science who are willing to contribute to the development of recommendations on key technical challenge areas for metrology in these fields are invited to register for the workshop before 14 September and join over 600 participants already registered for the event.
The opening online plenary session starts at 13h00 (UTC+2) on 26 September. https://www.bipmwmo22.org/keynote
To register, please use the link "REGISTER NOW" and contribute to the outputs of the workshop that will provide a set of recommendations on key technical challenge areas for metrology over the next decade.
Highlights are:
Keynote speakers setting the scene for the workshop themes of 'Metrology in support of the physical science basis of climate change and climate observations' and 'Metrology as an integral component of operational systems to estimate greenhouse gas emissions based on accurate measurements and analyses'.
198 presentation and poster contributions for the nine topics covered by the workshop.
Pre-recorded presentations and posters now available for viewing via the workshop website, prior to the workshop week, with the opportunity for participants to post questions and comments.
Two days of interactive online sessions via the Gather.town platform to meet and discuss presentations and posters in real time with authors and other participants.
Meetings of nine topic groups over two days to develop and discuss issues and recommendations.
A session to summarize outputs and key recommendations of the workshop.