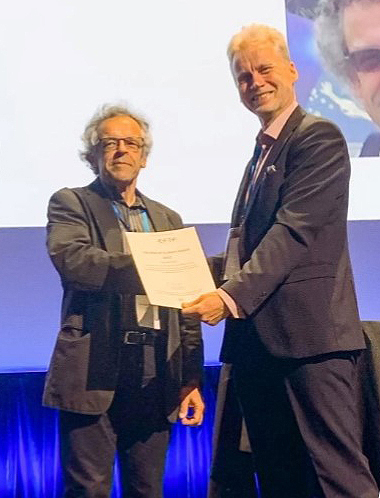 Dr Gérard Petit receives the Marcel Ecabert Award for 2022
Dr Gérard Petit from the BIPM Time Department has been awarded the 2022 Marcel Ecabert Award by The European Frequency and Time Forum (EFTF). The citation recognised his "long-standing involvement and key contributions in the timing activities of the BIPM and more generally in International time and frequency metrology."
The EFTF Marcel Ecabert Award is a lifetime award and honours the excellent achievements of the recipient in the field of time and frequency. It is named after the late Marcel Ecabert, founding member of the EFTF and member of its Executive Committee.
The awards ceremony took place at the 2022 joint conference of the EFTF and the IEEE International Frequency Control Symposium (IEEE IFCS), which was held on 24-28 Apr 2022 at the Cité des Sciences et de l'Industrie, Paris (France). The joint congress was held in-person for the first time in 3 years, gathering together more than 400 people.
The BIPM joins in congratulating Gérard for his long and fruitful involvement in time metrology research and development.