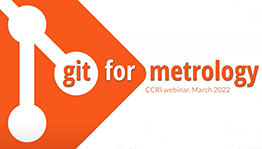 CCRI webinar "Git for Metrology"
The BIPM hosted a webinar in March 2022 on the topic of Git for metrology, with a focus on the "git" free software, which is widely used for "version control" in software development.
The webinar was organized by the Consultative Committee for Ionizing Radiation (CCRI) and attracted more than 250 participants. It is now available from the BIPM YouTube channel.
It included five speakers who gave an overview of how version control promotes best practices in file management and why metrology is a field particularly suited to the adoption of its principles. It introduced version control using a methodology that originated in software development and which provides tools for the management of any document or project. The webinar included two case studies of metrology projects that are managed successfully using git.
The speakers were:
Massimo Pinto (ENEA-INMRI, Italy) who gave an overview of software version control and its potential for personal and collaborative use.
Frédéric Tessier (NRC, Canada) presented the philosophy behind version control and proposed a 'fundamental mental picture' to accelerate git learning.
Reid Townson (NRC, Canada) demonstrated how to get started with git, create a repository and start making 'commits'.
Romain Coulon (BIPM) presented a case study using git and GitHub in the BIPM Ionizing Radiation Department to ensure version control of the database for key comparisons in radionuclide metrology.
Frédéric Meynadier (BIPM) presented the application of GitLab in the BIPM Time Department and how it is used for collaboration with external colleagues, internal development of core software, and personal projects.