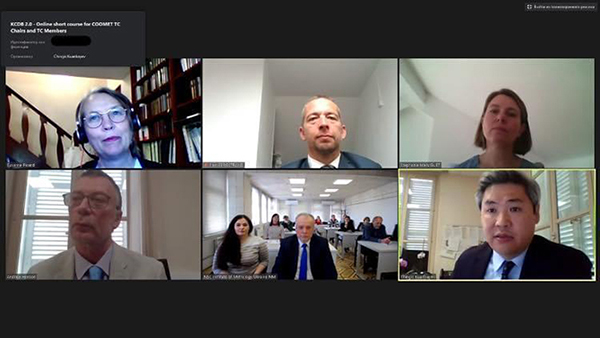 BIPM CBKT Programme goes virtual
The BIPM CBKT Programme launched its "Remote learning support" initiative in May 2020 with the delivery of its first online short course for RMOs (COOMET) and its first online technical exchange for CMC writers (Q/A sessions).
The KCDB 2.0 - an online short course
This newly developed online course attracted more than 100 participants from COOMET who are directly involved in the operation of the CMC review process and who pilot comparisons. The short course was split into three one-day sessions from 25 to 27 May, with each session lasting around three hours. The modules addressed:
User accounts
Creation of CMCs
CMC review processes
Comparisons
KCDB search facilities
Statistics.
Each module was followed by a series of multiple choice questions to the participants to establish immediately how well the content had been understood. This allowed the KCDB experts to continue by focusing on the aspects participants had found most challenging.
Feedback:
On behalf of COOMET President, COOMET expresses its gratitude to the BIPM for the provided opportunity of participation for a wide range of experts from COOMET NMIs/DIs in the short online course on the KCDB 2.0 issues and to all speakers for their interesting reports. Thank you very much!
Nadezhda Liakhova, Head of the COOMET Secretariat
See also:
Technical exchanges
As part of a brand-new initiative, the BIPM is delivering capacity building and knowledge transfer directly to those NMIs/DIs staff around the world who initiate CMCs.
The first of a series of one-hour technical exchanges on the KCDB 2.0 were focused on CMC writers in General physics and took place on 9 June 2020. In order to cover all time zones and ensure the participation of CMC writers around the world, the sessions were organized at 09:00 and again at 16:00 CET. This flexible approach to timing allowed the participation of 129 CMC writers, representing almost all regions. The technical sessions are based on a 'question and answer' format. All registered participants submitted their questions in advance to allow the KCDB experts to prepare and deliver tailored demonstrations using the KCDB CBKT training platform.
The "Remote learning support" initiative was launched to assist NMI/DI staff from Member States and Associates with their involvement in the CIPM MRA mechanisms. The BIPM is confident that these initiatives will equip those who are initiating CMCs, and those who operate the CMC review processes, thus increasing the effectiveness of the KCDB database as a reliable source for information on metrological traceability.
The BIPM is highly satisfied with the initial outcomes of the remote learning support. The feedback has been very positive, with the RMOs and participants in both activities clearly stating that they have received valuable and practical information that can be implemented directly in their work.
Chingis Kuanbayev, BIPM International Liaison and Communication Department