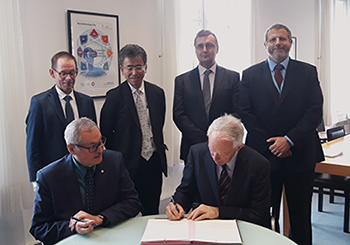 Memorandum of Understanding between the BIPM and IUPAC
The BIPM and IUPAC have formalized their long-standing cooperation through the signature on 17 October 2019 of a Memorandum of Understanding.
The BIPM-IUPAC Memorandum of Understanding was signed by Dr Wynand Louw, President of the CIPM, and by Christopher M.A. Brett, Vice President of IUPAC, on behalf of the IUPAC President, Qifeng Zhou.
The BIPM has for many years been represented on the IUPAC Interdivisional Committee on Terminology, Nomenclature and Symbols (ICTNS), and IUPAC participates in the CCQM, the CCU and the JCGM.