MEASURANDS : Distances of the centres of the front and back faces of the individual gauges of the step-gauge with respect of the centre of the front face of the first gauge
TRAVELLING STANDARD : A 420 mm long step-gauge with 11 gauges, designated as Gauge 1 to Gauge 11
Measurement results, as reported by participants, and corresponding measurement uncertainties are given in Sections 6 and 7 on pages 19, 20 and 21 of the Final Report, and also summarized in Section 9.5 on page 43 of the same Report.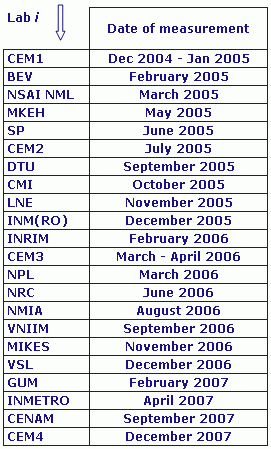 IPQ and NMISA resigned to measure for technical reasons.
CEM carried out four measurements designated as CEM1, CEM2, CEM3 and CEM4.
Only CEM2 and CEM4 are retained in the following, CEM1 and CEM3 having been used to assess the stability of the travelling standard, and for other purposes.
Looking at the evolution of the measured values along the time, the following actions were taken:
1. To exclude Gauges 5, 7, 8 and 10 from calculation, based on the large variations and anomalous behaviour observed on them by the Pilot Laboratory and the participants.
2. Assume that only Gauges 1, 2, 3, 4, 6, 9 and 11 are reasonably stable along the comparison and use them for the analysis. Although there is a reduction in the number of the gauges, the number of remaining ones is still valid for checking the capability of participants to calibrate step gauges according to their CMCs.
3. To leave out the results of CENAM and CEM4 and analyze them separately, as a secong group, linking later their results to the main group.