MEASURAND : Free-fall acceleration
NOMINAL VALUE : 9.81 m/s2
Degrees of equivalence: Dk and expanded uncertainty Uk (k = 2), both expressed in µGal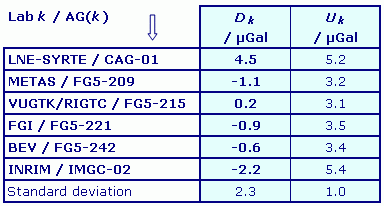 Comparison of these degrees of equivalence with those obtained in previous exercises is given in Section 9 of the Final Report. It shows good agreement.
Results are presented under A4 printable format in Summary Results (PDF file).
Unless otherwise stated, in the final numbers presented here, rounding has been applied according to ISO-31-0 Annex B Rule B.