MEASURAND   Amount fraction of Nitrogen dioxide in Nitrogen
NOMINAL VALUE 10 µmol mol-1
Measurement 2
The key comparison reference value is the Nitrogen dioxide mole fraction assigned by the BIPM, xRi, to a cylinder of laboratory i , as explained in Section 6.1 on page 35 of the Final Report.  Its associated standard uncertainty, uRi , is calculated as explained in Annex 3 on page 51 of the Final Report.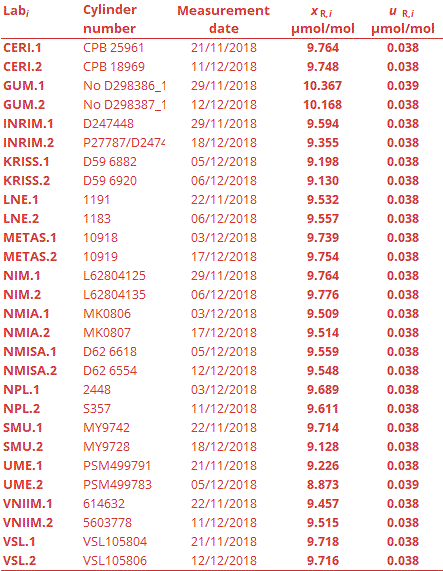 One degree of equivalence for one standard of one laboratory i participant at one date of the measurement performed by the coordinating laboratory is defined by two terms, bothe expressed in µmol/mol:
Di = (xi - xR i)  where xi denotes the estimation of the NO2 amount fraction in the participant's standard at the date of the key comparison reference value and xRi  denotes the reference value given by the BIPM on that date.
Its associated expanded uncertainty is Ui = (ui 2 - uRi 2)1/2 at a 95 % level of confidence where Ui = 2 ui.