CCQM-K26.a and EURAMET.QM-K26.a
Key comparison CCQM-K26.a
MEASURAND : Amount-of-substance fraction of Nitrogen monoxide (NO) in Nitrogen (N2)
NOMINAL VALUE : 720 nmol/mol
In order to eliminate any effects of drift due to instability in the amount fraction in the travelling cylinders, the drift of each travelling cylinder was determined individually by the Pilot Laboratory, the NPL, as explained on page 7 and in Annex B of the Final Report.
Then, the amount fraction in the cylinder sent to laboratory i, xiR, was calculated at the time when it was analyzed by this laboratory, together with the corresponding standard uncertainty, uiR (see on page 11 of the Final Report).
One component of the uncertainty uiR corresponds to the preparation by gravimetry and is estimated to be equal to 0.1 nmol/mol for all cylinders.
There is no single key comparison reference value for this comparison. The reference value for laboratory i is xiR with standard uncertainty uiR.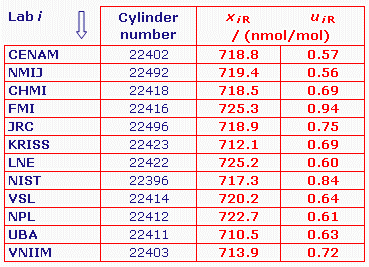 The degree of equivalence of each laboratory i with respect to the reference value is given by a pair of terms: Di = (xi - xi R) and Ui, its expanded uncertainty (k = 2), both expressed in nmol/mol, Ui = 2(ui2 + ui R2)1/2.
No pair-wise degrees of equivalence are computed for this key comparison.
Key comparison EURAMET.QM-K26.a
MEASURAND : Amount-of-substance fraction of Nitrogen monoxide (NO) in Nitrogen (N2)
NOMINAL VALUE : 450 nmol/mol
The EURAMET.QM-K26.a data are treated in a similar way (see Section 8 of the Final Report), which makes it possible to extend the CCQM-K26.a graph of equivalence with results of participants in the EURAMET.QM-K26.a key comparison.